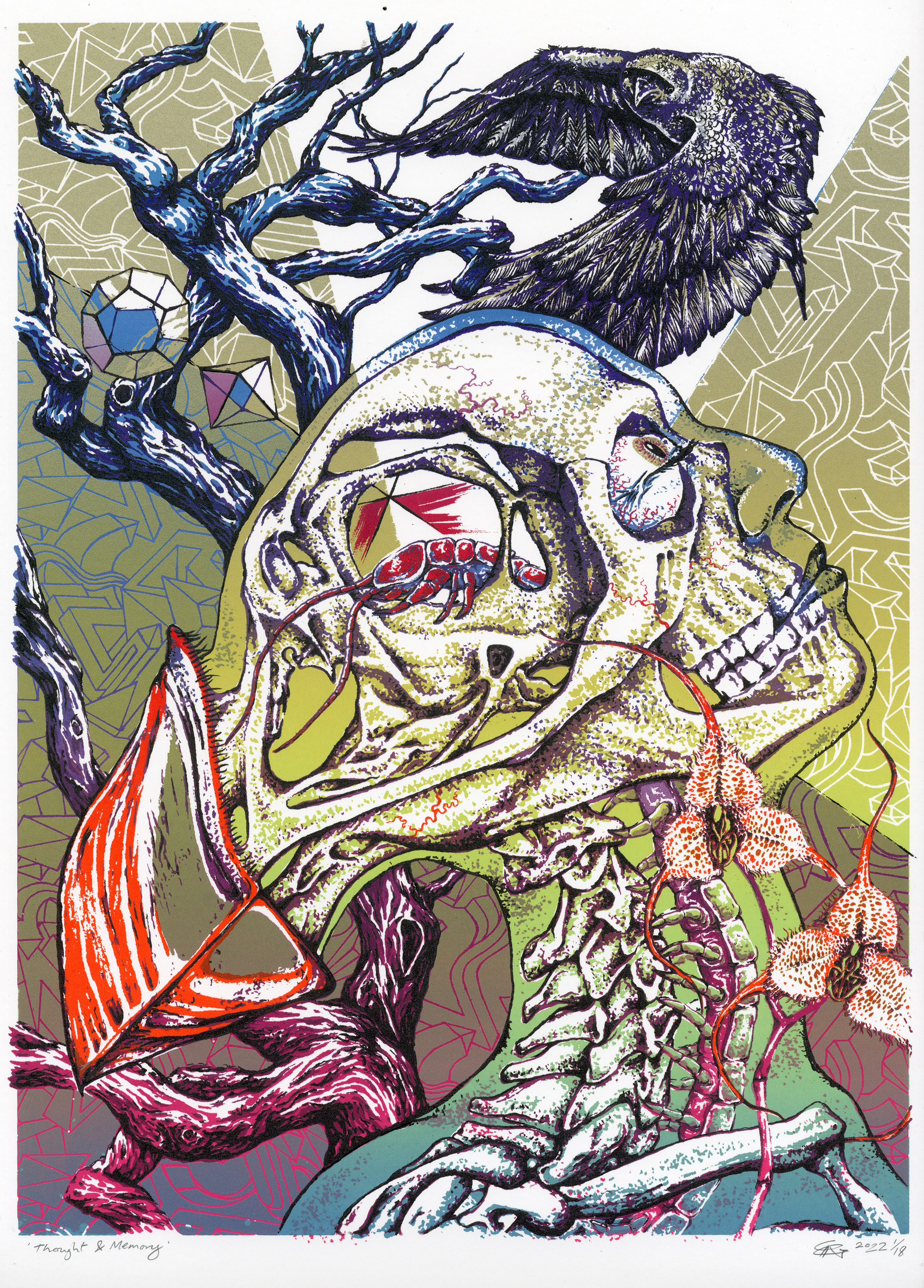 Thought & Memory
Edition of 18, signed & dated 2022
Print Dimensions: 29 x 39
Recommended mount dimensions: 30 x 41 cm



"This gorgeous 5 layer print uses neon & metallic inks and colour blends on almost every layer to really glow.

Tarot has long been a hobby of mine & combining iconography from many faiths and cultures to create psychedelic, unsettling and deeply spiritual work is an outcome of this study."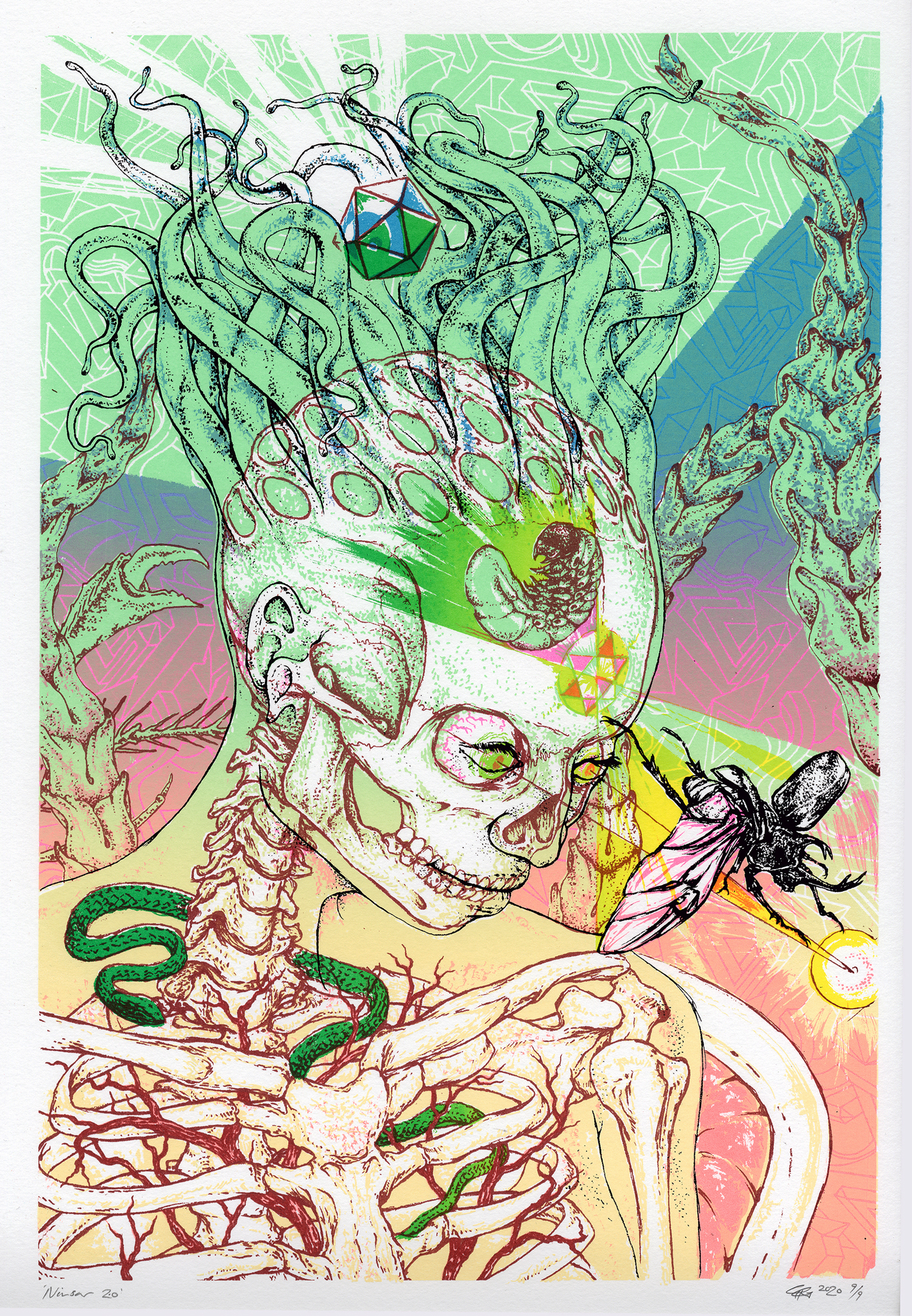 Ninsar 2.0
Edition of 9, signed & dated 2022.
Print Dimensions: 27.2 x 40.5
Recommended mount dimensions: 28.5 x 41.5 cm
"This dramlike 4 layer neon rainbow fade screen print was adapted from a drawing of mine depicting a post modern surrealist interpretation of the ancient Sumerian goddess of regeneration."
To Be Apart & To Be A part
Edition of 8, signed and dated 2021.
Print Dimensions: 42 x 25cm deckled edge.


"I produced this print in two colourways To Be Apart (purple) & To Be A part(pink) to reflect the duality of the sentiment and interpretation. Both use a metallic gold to represent the human spirit.

This work was created for the TBA show EMBASSY which brought together work looking at the divisions of human kind and what ties us together."
Sovereign House 1
Edition of 9, signed and dated 2021.
Print Dimensions: 39.5 x 22cm.
Recommended mount dimensions: 41 x 23 cm.


"Sovereign house is a monumental edifice of vacant concrete. A headstone to 70s utopian development and an oddly beloved eyesore on the north Norwich skyline. Surrounded by budget supermarkets and local businesses alike and overlooked by many different artists studios, buildings like this mark the momentary hubris of capitalist development & birth of subculture spaces.. before the march of gentrification sets in."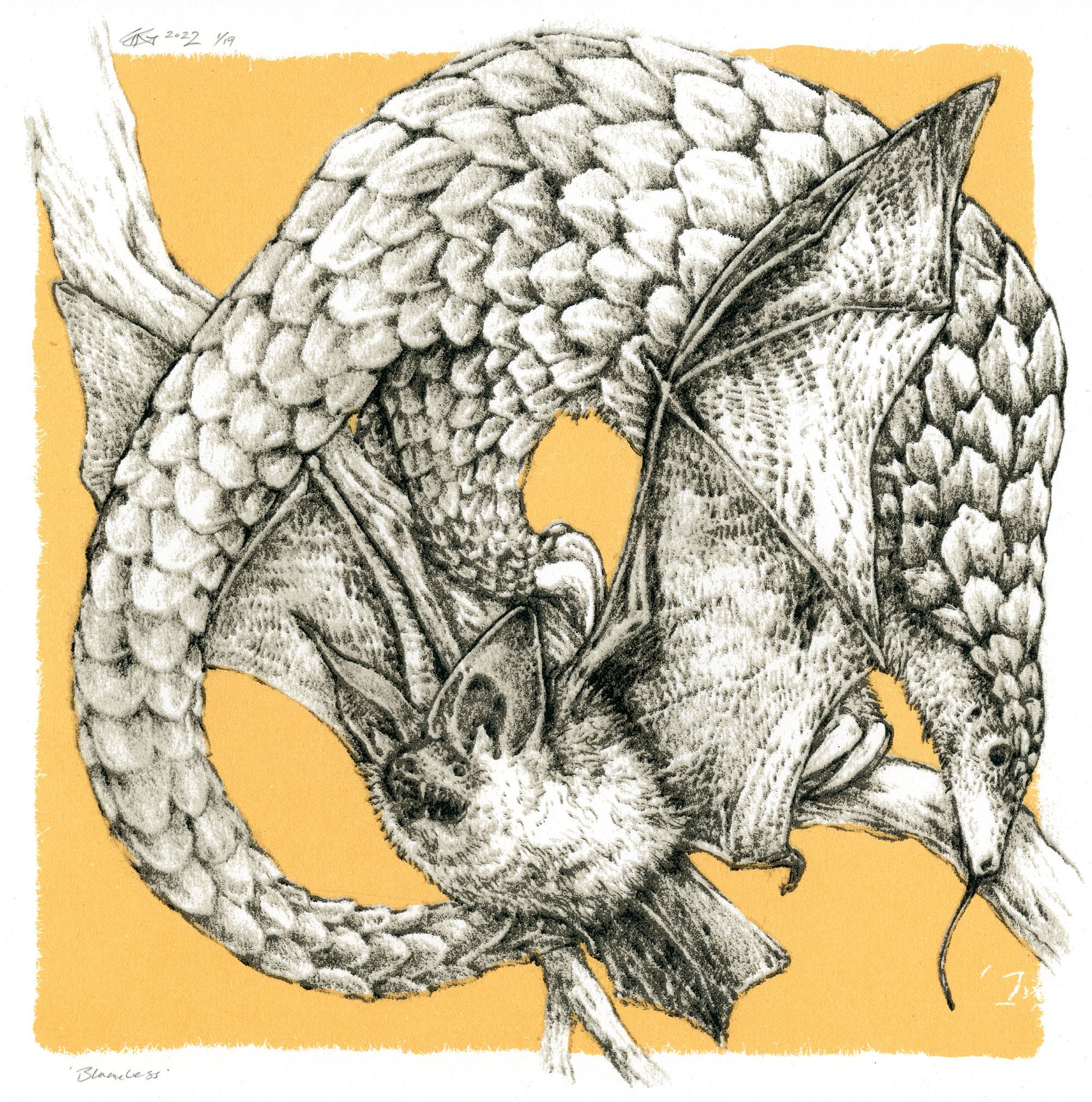 Blameless
Five layer Screenprint.
Edition of 19 on white and off white deckled Fabriano paper.

This was a response of mine to the theory that the Covid-19 virus had mutated and spread from animals, chiefly bats and Pangolins, sold on the Asian medicine markets. As well as bringing humans in regular proximity to wild animals in ways that allow virus strains to recombine and become transmissable to us, this trade endangers these species from over hunting. Once this theory was public it triggered panic culling of these animals on an even wider scale.




Untitled : Moth
Five layer Linocut print.
Edition of 19 with slightly varying colourways.


"I chose to mix the inks as I printed to create a limited edition where no two prints are exactly the same shade."
Painted Dog
Five layer Linocut print
Print Dimensions 15 x 20 cm
Edition of 16.
Pangolin
Four layer Linocut print
Print Dimensions 9 x 17 cm
Edition of 17
Binturong
Four Layer Linocut Print
Print Dimensions 15 x 10 cm
Edition of 23